Dear users,
buy your copy of the professional software Nifty Stats Pro ( one year version ) today and get a 10% discount!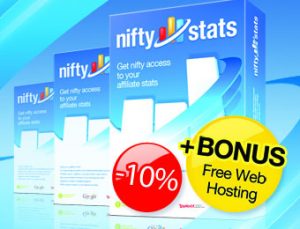 This offer is valid ONLY FOR THE USERS of the free version!
Would you like to buy Nifty Stats PRO right now? Then don't hesitate and
login to the member section at https://secure.niftystats.com/member-section.php and click on the up
menu on DOWNLOAD.
After the buy you don't need to do anything, you don't need to set anything extraordinary, you just need to open your free version of Nifty Stats and in the menu choose Nifty Stats > Update Nifty Stats. The installation will be done automatically and all your affiliate programs, advertising networks and PPC campaigns will be automatically imported with your statistics included.
This promo is time limited till 17.2.2011.
Do you have any questions? Don't hesitate to contact us!