Introducing the advertising network - PropellerAds.
Propeller Ads Can Help Grow Revenue With Performance-Driven Advertising!
To many of us, AdSense is usually the first recommended ad network or the only one that we have heard of. However, it seems like the ad network alternatives are starting to make a great impact, offering easier, more profitable, and reliable ad monetization options.
Take Propeller Ads as an example; Propeller Ads is an AdTech company that was founded in 2011, with the goal to provide powerful performance marketing solutions globally. With 10 years of experience and having worked with 150K + publishers, you can rest assured that Propeller Ads has some of the best CPM rates on the market.
Propeller Ads are a part of Nifty Stats, a desktop utility that allows you to track your affiliate sales and expenses automatically. It consists of many affiliate programs, networks, and advertising networks, including Propeller Ads. With Nifty Stats, you can track thousands of affiliate programs, online campaigns, and advertising networks.
Propeller Ads' in-house algorithm offers better matching opportunities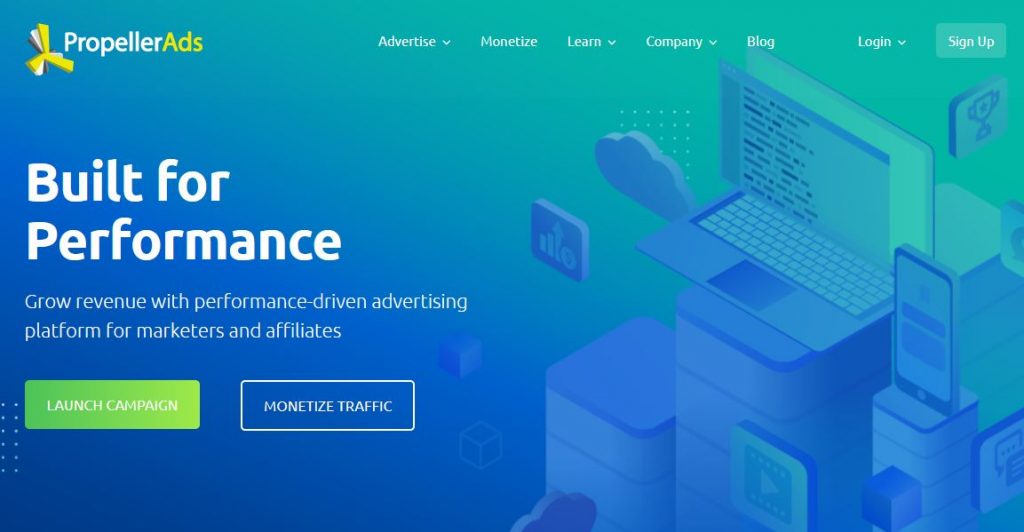 One thing that really separates Propeller Ads from other ad networks is their in-house algorithms. They are designed in a way to easily match users to appropriate advertisers. By doing so, you are reaching your targeted audience.
The website of Propeller Ads is very informative and basic, which makes the process of getting started incredibly simple. You can reach the information that interests you without much browsing, and start working in a couple of minutes. Propeller Ads is not only an ad network for the publishers, but it is also a self-serving platform for advertisers.
Propeller Ads features
Global coverage – one of the best things about Propeller Ads is the fact that they do offer global coverage. Propeller Ads claims to monetize 100% of web traffic from around the globe, which means that even the non-English content can be advertised and shown to a targeted audience.
AdSense compatibility and clean ads – Considering that most publishers tend to partner with multiple networks, Propeller Ads has designed a platform that will work smoothly with AdSense on the website of the publishers. You can also look forward to high-quality ads, as Propeller Ads monitors the ads regularly, filtering out the ones with obscene content and malware.
Bypassing AdBlock – AdBlock is one of the biggest advertiser enemies. Propeller Ads offers a solution called AdBlock Bypass, which allows publishers to monetize ad-block users by using non-intrusive ads to replace the standard ones.
Push notifications and ClickUnder ads – for all mobile publishers, Propeller Ads has a great push notification service that will drive more traffic. ClickUnder ads are the ad types that will expand to a full-screen mode if the user chooses to click on them. These ads are perfect for more detailed advertisements.
Enjoy different ad formats!
Propeller Ads is a good solution for content owners who are aiming to monetize their networks. These are the various ad types you can look forward to:
Native Direct Ads
These are the most popular propeller ads that allow you to make money simply by directing your traffic to a link. You can do this by using social media traffic, placing links on your website, using pop-under ads, and so on.
Also known as popunder ads, are the perfect monetization option and some of the best performing ad formats when talking about revenue. Popunder ads are full-tab ads that are initiated by the users and will appear in a new browser tab which allows you to monetize every visitor.

These are fast-loading ads that are skippable and will be displayed after a specific website page. These ads can easily be customized and they offer high CTR, which makes them perfect for additional monetization.

You are able to monetize any traffic type with URLs that are designed to take visitors to the most relevant offer automatically. This is done thanks to a rotation mechanism from Propeller Ads.
Everyone has heard of banner advertisements. This form of advertising means that you are embedding a banner onto a web page. These ads are simply designed to occupy a spot on a website's layout or in an app, and they often appear at the bottom or top of the screen.

Comparing Propeller Ads to Google AdSense
Considering that almost everyone has heard about Google AdSense, it is no secret that it currently dominates the ad network space. With that said, getting the AdSense account approval is not such a simple task, especially for beginners. You might be better off with simpler and just as effective ad networks as Propeller Ads.
When talking about the market share, Google AdSense is in the leading top 1 million websites, and it is no surprise that Propeller Ads loses in this segment. AdSense also has more usage coverage when talking about categories, compared to Propeller Ads.
However, Propeller Ads have a much shorter review process, with no minimum requirements of traffic, which means that even the smallest of publishers can be approved. Google AdSense has a long review process and that can sometimes take days, weeks or months to be resolved.
The minimum pay for Google AdSense is $100… which can be a lot for beginners. Propeller Ads, on the other hand, have a minimum payment threshold of only $5. In addition, AdSense will not display which ads are getting clicked on the most, while Propeller Ads will give you all the information.
Advantages and disadvantages of Propeller Ads
The great thing about Propeller Ads is the fact that there is no minimum traffic requirement, so it is perfect for small publishers. There is a wide range of payment options, allowing you to pay via ePayments, WebMoney, Payoneer, PayPal, Skrill, and Wire Transfer. You have more options when getting a payment, and a low payment threshold.
However, Propeller Ads has lower revenue for non-English sites, low CPM on lower-quality websites, and no header bidding. All in all, Propeller Ads is a great ad network, but whether it is better than Google's AdSense all depends on what you are personally looking for.